EU-funded Twinning project in the area of the domestic violence has been successfully completed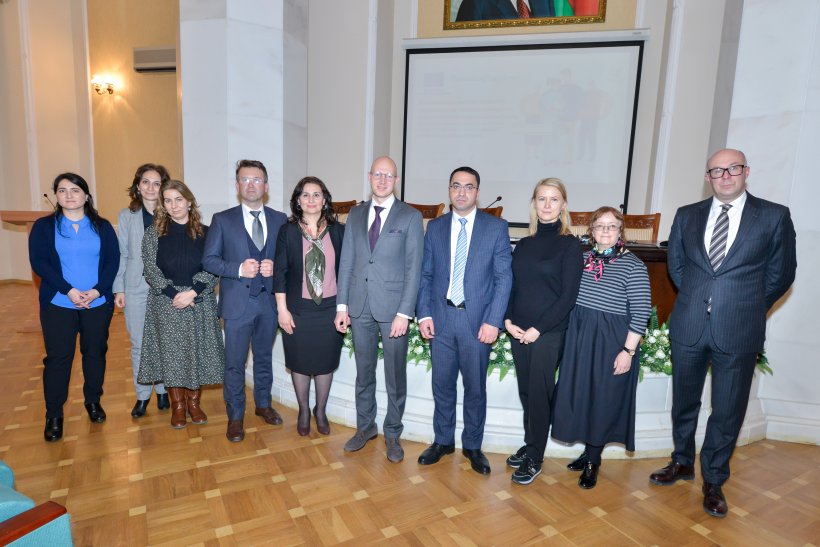 Jan. 21, 2022
Closing event of the 17-month-long European Union-funded Twinning project "Strengthening the capacity of State bodies and local level referral mechanisms to provide safety and support to victims of domestic violence in Azerbaijan " took place on 12 January 2022 in Baku, Azerbaijan with the participation of the SC members, Ambassadors of Lithuania and Austria, key stakeholders and representatives of Azerbaijan public institutions. The project aimed to improve legislation, referral mechanisms and services to survivors of domestic violence.
The main goal of this summarizing event was to present the results and achievements of the project and share the experience that both partner sides acquired during its implementation.
A team of experts from Lithuania and Austria with close cooperation of the State Committee for Family, Women and Children Affairs of the Republic of Azerbaijan developed 6 training programs and conducted training for 680 specialists, including judges, police officers, local executive authority staff, psychologists, teachers, social workers, journalists and NGOs.
Project Leader in Azerbaijan, Deputy Chairperson of State Committee for Family, Women and Children Affairs, Mrs. Sadagat Gahramanova opened the event and praised the joint activities carried out in cooperation within the Twinning project.
 "Violence against women happens anywhere, there is no safe place, not even at home. Women are targeted at home as well as in their workplace, in schools and universities, on the street, and increasingly online through cyber violence and hate speech. The EU is committed to preventing, openly rejecting and condemning all acts of violence against women and children and sharing best practices to strengthen safety and support to victims of domestic violence", said Ambassador of the European Union, Peter Michalko.
Resident Twinning Advisor, Mr. Laurynas Totoraitis summarized that the Twinning project was well timed and corresponded with the National Action Plan for the Elimination and Combating Domestic Violence of Azerbaijan for 2020-2023. The project focused on several priorities. First of all, enhancing the legal status of Monitoring Groups on Gender Based Violence and Violence Against Children and legal framework for further criminalization of domestic violence. Developed proposals are intended to increase safety and support to domestic violence survivors. Secondly, the project emphasized increasing capacities of Children and Family Support Centers, development of mechanisms on legal and psychological assistance for domestic violence survivors during pre-trial investigation and court proceedings and rehabilitation programmes of perpetrators. The last priority related to raising journalists' awareness in order they could more accurately portray domestic violence cases in the mass media and follow internationally recognized ethical standards.
The partners of the project were the Ministry of Social Security and Labour of the Republic of Lithuania, Vilnius University, the Law Institute of the Lithuanian Center for Social Sciences under the Ministry of Education, Science and Sport of the Republic of Lithuania, the European Social Fund Agency and the Ludwig Boltzmann Gesellschaft - Institute of Human Rights (BIM) of Austria acting as Junior Member state partner.
As an initiative of the European Commission, the Twinning instrument was launched in 1998 to support candidate countries in their integration process to the EU. It ensures institutional cooperation bringing together public sector expertise from EU Member States and beneficiary country of the Programme.